January 2014
Hershey's Shelf Stable Quart Milk!!!
Call Us Today At 973-568-9866/953-5929 To Receive Your Free Samples Today!!!
September 2013
Introducing Hershey's new Line of School Approved Milks!!!!
Being both nutritious and delicious, Hershey's new line of shelf stable milks are approved for use in schools for children of all ages. Not only does the milk come in standard flavors like white and 1% chocolate but now it also comes in a fat free variety which surpasses its competitors in quality and flavor. If you would like to receive more information about these milks or if you would like to receive a free sample please feel free to contact us at 973-568-9866/953-5929.
July 2013
Introducing Eldorado D-Shoppe!!!
Eldorado's new D-Shoppe coffee. The taste of your favorite Cafe right in your office.
Call Today for a free Sample!!!!
973-568-9866/953-5929
June 2013
This month's spotlight is on the Everpure Claris system. The CLARIS water filter system has been designed down to the last detail to cater to the exacting requirements of the specialty coffee and foodservice market. The unique Claris water filter system combines sophisticated filtration technology with smart engineering excellence which, up until now, was only associated with larger and more expensive systems. The Everpure CLARIS system is ideal for producing high quality hot beverages as well as iced tea and steam applications. In addition,it will protect your expensive brewing and steam equipment, helping you to avoid serviced and maintenance costs. It offers unique advantages in a compact and cost efficient cartridge filter system.
For more information on the CLARIS system contact us at 973-568-9866/953-5929
May 2013
This month's spotlight is on the Vertex Water Products PureChill Water Cooler system. PureChill technology eliminates the need for an open reservoir for cold water storage. The closed system keeps environmental contaminants out so there is no need for costly in tank sanitization such as a UV or Ozone system.The water is dispensed directly into your cup. The PureChill comes in three models.
The PureChill-900
The PureChill-9100
The PureChill-9500
Contact us today at 973-568-9866/953-5929 for more information on this innovative new system from Vertex!!
April 2013
This month's spotlight is on the ElDorado's Premium line of Coffee Pods. The pod will allow you to choose from a wide variety of fine coffees to be brewed uniquely to your own taste. No more wasted coffee, just one perfect freshly brewed cup at a time at a substantially lower cost than any existing single cup coffee system in the industry, and with an 85% reduction in landfill impact over other single cup systems. You simply cannot go wrong when you offer your customers one of the finest coffees in the most innovative systems to date.
Call us today at 973-568-9866/953-5929 to sample this excellent product
March 2013
This month's spotlight is on Newco Enterprises CX-2 Auto Eject Pod Specialty Drink Machine, Newco's personal barista for specialty coffee in the workplace. Enjoy delicious coffee, latte, cappuccino and more from this single serve pod machine. There's never a reason to leave the workplace for great tasting coffee again.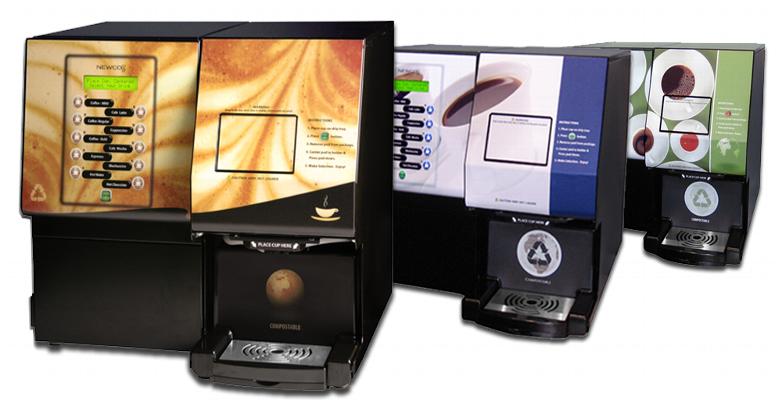 Call us at 973-568-9866/953-5929 to schedule a demonstration at your facility today!!